ÍY SȻÁĆEL (Good Day),
Welcome to my weekly update for October 23, 2022!
With the 2022 local government and school district elections in the books, I want to raise my hands in gratitude to all our friends, family and neighbours who courageously put their names on the ballot for our consideration.
Congratulations to all the newly elected and re-elected Mayors and Councillors in Saanich North and the Islands. I look forward to working with you collaboratively on behalf of all our constituents to improve our communities, protect our environment, nurture positive relationships and advocate on a wide variety of topics such as healthcare, housing, transportation, education, public safety, ecosystem health and good community governance.
To all the candidates who were not elected, thank you for engaging our democracy, advancing ideas, and challenging the status quo. I deeply appreciate the contribution you have made to encouraging lively and informed debate. I hope that you will stay involved in civic governance and encourage you to stay connected with me and my constituency office, we need your voice, perspective, and energy.
Thank you to everyone who chose not to run in this election including Carl Jensen (Central Saanich), Heather Gartshore, Geoff Orr, and Patricia Pearson (North Saanich), Barb Fallot and Peter Wainwright (Sidney), Dave Howe (CRD, Southern Gulf Islands) and Islands Trustees, Steve Wright (South Pender), Peter Grove (Salt Spring), Tahirih Rockafella (Galiano Island), Alicia Holman and Sheila Stelck (School District #63), and Shelley Lawson, Janelle Lawson, and Stefanie Denz (School District #64).
This week, my colleague Sonia Furstenau asked all the questions of government. I stood to speak to the report of the Special Committee to Review the Freedom of Information and Protection of Privacy Act officially tabled on Monday. In addition, I recognized the passing of former MLA and Sidney business leader Clive Tanner.
If you find this newsletter informative, please share it with your friends and neighbours and invite them to sign up to receive my updates.
If you need advocacy from our office, have any questions or concerns, please provide your feedback at Adam.Olsen.MLA@leg.bc.ca or 250-655-5600.
Regards,
Adam Olsen, MLA
Saanich North and the Islands
---
BAMBERTON QUARRY EXPANSION APPLICATION
---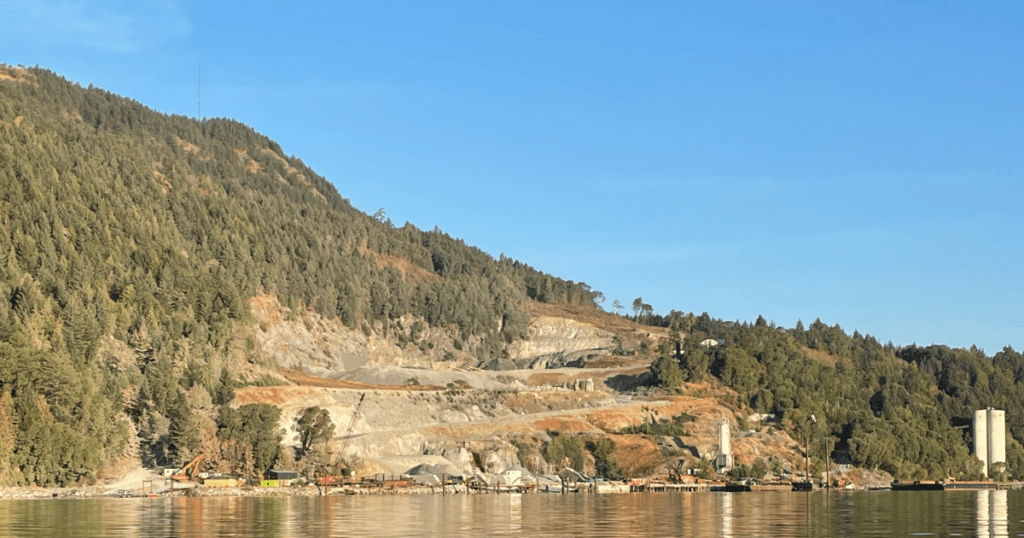 Learn more about the proposal and learn more here.
---
QUESTION PERIOD
---
Perhaps for the first time since my election in 2017 I had no questions in a legislative week. All the questions from the BC Green Caucus were asked by Sonia Furstenau, MLA for Cowichan Valley.
---
STATEMENTS
---
In September, former Saanich North and the Islands MLA and Sidney businessman Clive Tanner passed away. In my statement this week I stood to recognize Mr. Tanner and the significant contribution he made to our community and province.
● Transcript – (2:05pm)
● YouTube (Hansard video)
● Blog Post
---
REPORTS
---
This week, the report of the Special Committee to Review the Freedom of Information and Protection of Privacy Act that was published earlier this summer was officially table in the Legislative Assembly. As a member of the Committee, I had an opportunity to speak to the process and the contents of the report.
As the committee heard from nearly every presenter there is a growing culture of secrecy in government and an overwhelming desire for transparency and movement toward open government. Presenters rejected the fee for Freedom of Information applications; however, this issue is not addressed in the recommendations as these are consensus reports.
I spoke at length to the amendments of the Freedom of Information and Protection of Privacy Act that occurred in Fall 2021 and the negative impact those changes had in undermining good public process.
This was a demonstration of how our BC NDP government is prepared to flout democracy and good governance in order to suit their own agenda leading to a further erosion in confidence in government and our democracy.
The tabling of this report closes this chapter of this work, for now.
● Transcript – (2:50pm)
---
BILLS
---
Bill 34 – Opioid Damages and Health Care Costs Recovery Amendment Act, 2022
This bill allows the federal government to join B.C.'s class-action lawsuit against opioid manufacturers and expand the number of people the government can name liable in the case, to include directors and officers of corporations.
Bill 35 – Income Tax Amendment Act, 2022
The purpose of this legislation is to provide a temporary increase to the renamed BC family benefit. These payments will be increased for the first three months of 2023. These changes were initially announced in September 2022, as a part of the province's affordability crisis. Nobody needs to apply in order to receive this benefit. About 75% of families with children receive this benefit and will receive the enhanced payments from January to March.
Bill 36 – Health Professions and Occupations Act. 2022
This Bill proposes to change how health professions are regulated including strengthening regulatory colleges. It includes a new oversight body, complaints process, improves information sharing and process that streamlines designating and amalgamating professions (from 24 to 6). This has not been done in three decades and Minister Adrian Dix worked with both the opposition caucuses to accomplish this.
---
ESTIMATES
---
2022 Budget Estimates are complete.
---
IN THE NEWS
---
CBC Political Panel
Listen in every Monday morning, 7:30 I'm on the CBC Political Panel on The Early Edition with Stephen Quinn | Live Radio | CBC Listen
Oct. 17, 2022: Political Panel — Big changes in a lot of municipalities across the province | The Early Edition with Stephen Quinn | Live Radio | CBC Listen
---
COMMUNITY OFFICE
---
Contact my Community Office. We are here to advocate on behalf of residents of Saanich North and the Islands.
If you need advocacy or you have a question, concern, suggestion or idea, please do not hesitate to contact me at Adam.Olsen.MLA@leg.bc.ca or 250-655-5600.
Find us at:
9828 Fourth St.
Sidney, BC
V8L 2Z3